The retreat - Pool house - Fuseta
Brand new Townhouse in Fuseta with private swimming pool!
Huge roof terrace with great sea views
Very spacious and modern, 3 Bedroom 3 Bathroom property, situated in Fuseta and walking distance to the centre of town with its varied shops, restaurants and famous beaches!
Ground Floor:
Entrance area into open plan living and dining space.
Enjoy relaxing with WiFi and cable TV offering many channels.
The modern kitchen area is fully equipped.
Doors open out onto the terrace and your own private swimming pool!
Bedroom can be either 2 singles or a double bed.
Adjacent Bathroom with bath and shower combined.
First Floor:
2 x Large Double Bedrooms.
Each has an en suite bathroom with large walk in shower.
The 2 bedrooms also benefit from a connecting balcony - Enjoy your morning coffee!
2nd. Floor:
A Huge roof terrace! Here you can enjoy great views of the sea and surrounding areas. Here you can enjoy barbecuing and sipping sundowners for sure….. Perfect holiday environment!
This lovely property benefits from Air Conditioning throughout and also underfloor heating, which makes it perfect also for a winter vacation.
Electric shutters on a one touch button.
The villa has free unlimited Wi-Fi and Smart TV with chrome cast facility, Zanussi kitchen appliances include an electric oven and a large 80cm hob. There is also a dishwasher and a washing machine
Outside there is a gated parking area for your car or bicycles.
Situated in a very friendly neighbourhood with a small supermarket just a few minutes away on foot.
Less than 10 minutes walk to downtown Fuseta and all the action of this fantastic seaside village! You can even catch a train to explore Olhão,Faro or Tavira - A car is not necessary here..
A very family friendly holiday home in a quiet neighbourhood, with everything you need just a short walk away.
Owner's contact
Mail:
theretreatfuseta@gmail.com
Infos
Region:
PT - Portugal, Algarve, Fuseta
The retreat
Type:
House
Privacy:
yes
Capacity:
maximum 6 persons
Licence:
139008/AL
Price
| | |
| --- | --- |
| 1500€/week | July, August |
| 1300€/week | June,September |
| 1000€/week | April, May, October |
| 875€/week | November to March |
Rates are for 4 Persons, add €10/per night per additional person.
6 persons maximum.
Cleaning cost:
€150 (1-4 persons)
€180 = (5-6 persons)
The villa sleeps 6 persons maximum
Sorry -no children under 8 years
Sorry -No pets and no smoking inside the property
You will be welcomed on arrival by the house manager
Address
The Retreat
Rua da Cruz Vermelha 1
8700-061 Fuseta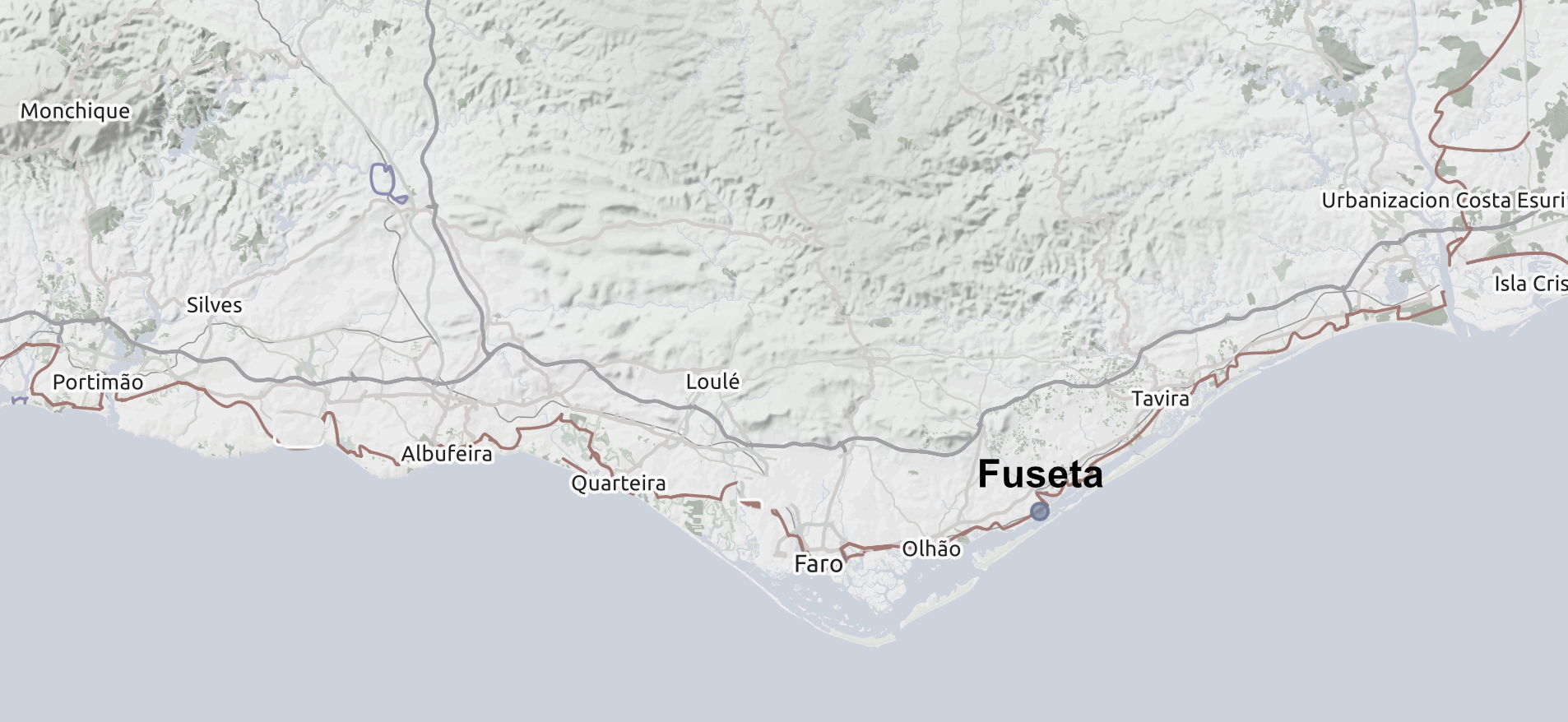 Availability
June

1

2

3

4

5

6

7

8

9

10

11

12

13

14

15

16

17

18

19

20

21

22

23

24

25

26

27

28

29

30
July

1

2

3

4

5

6

7

8

9

10

11

12

13

14

15

16

17

18

19

20

21

22

23

24

25

26

27

28

29

30

31
August

1

2

3

4

5

6

7

8

9

10

11

12

13

14

15

16

17

18

19

20

21

22

23

24

25

26

27

28

29

30

31
September

1

2

3

4

5

6

7

8

9

10

11

12

13

14

15

16

17

18

19

20

21

22

23

24

25

26

27

28

29

30
October

1

2

3

4

5

6

7

8

9

10

11

12

13

14

15

16

17

18

19

20

21

22

23

24

25

26

27

28

29

30

31
November

1

2

3

4

5

6

7

8

9

10

11

12

13

14

15

16

17

18

19

20

21

22

23

24

25

26

27

28

29

30
December

1

2

3

4

5

6

7

8

9

10

11

12

13

14

15

16

17

18

19

20

21

22

23

24

25

26

27

28

29

30

31
January

1

2

3

4

5

6

7

8

9

10

11

12

13

14

15

16

17

18

19

20

21

22

23

24

25

26

27

28

29

30

31
February

1

2

3

4

5

6

7

8

9

10

11

12

13

14

15

16

17

18

19

20

21

22

23

24

25

26

27

28

29
March

1

2

3

4

5

6

7

8

9

10

11

12

13

14

15

16

17

18

19

20

21

22

23

24

25

26

27

28

29

30

31
April

1

2

3

4

5

6

7

8

9

10

11

12

13

14

15

16

17

18

19

20

21

22

23

24

25

26

27

28

29

30
Mei

1

2

3

4

5

6

7

8

9

10

11

12

13

14

15

16

17

18

19

20

21

22

23

24

25

26

27

28

29

30

31
June

1

2

3

4

5

6

7

8

9

10

11

12

13

14

15

16

17

18

19

20

21

22

23

24

25

26

27

28

29

30
July

1

2

3

4

5

6

7

8

9

10

11

12

13

14

15

16

17

18

19

20

21

22

23

24

25

26

27

28

29

30

31
August

1

2

3

4

5

6

7

8

9

10

11

12

13

14

15

16

17

18

19

20

21

22

23

24

25

26

27

28

29

30

31
Last update : 2023-05-26