MareLuz, Apartment T1 +1 at Del Mar Marina, Olhão, Algarve
MareLuz ('Mar e Luz', translating as 'Sea and Light') brings you modern classic European luxury in the recently completed Del Mar Marina devlopment in Olhão. A sense of space, light and comfort. The perfect ground floor 'Pied-à-Terre' conveniently situated on the waterfront in the heart of the town. Beautifully decorated with an extensive art and book collection. Fully equipped 'gourmet' kitchen for your every need - when you are not eating out at one of Olhão's super restaurants.
A courtyard terrace and a streetside terrace, equipped with tables and chairs, providing a lovely outside space for morning coffee or an evening cocktail.
Access by lift to the two rooftop pools on the 6th floor (one covered and heated), where enjoying the sun and the view is part of the Del Mar Marina experience. Separate office. Fast fibre internet and wi-fi throughout, and TV with all international channels. Perfect for working from home during an extended stay. Just a few steps from the Marina promenade, shops, restaurants and cafes - and an exercise park for you to keep 'in shape'. Everything is in walking distance. Secure garage with dedicated parking space. Washer and dryer.
Olhão
Olhão is also known as Olhão da Restauração, following the defeat of Napoleon's troops 1808. It's cubist architecture and the winding small streets of the old town provide endless fascination. Olhão's regular ferry service takes you to the islands and beaches of Armona, Culatra and Faro. The airport in Faro is less than 20 minutes away. Come and enjoy some time in Olhão!
Owner's contact
Mail:
xbriton@aol.com
Infos
Capacity:
- 2 persons ( + can accommodate a young baby - crib provided if necessary)
- 1 bedroom + office/ reading room. Spacious 110 m2!
- Luxury bed linens, towels, beach towels and beach umbrella, are provided for you.
- No smoking (including electronic cigarettes, in the apartment and no pets allowed. Please note that DelMar Marina is not a resort, and guests are asked to respect the residential nature of the community.
- Check in after 16h and before 21h please.
- At time of booking, payment is 15% and the balance is due 4 weeks before arrival, in each case by bank transfer. A booking form and rental rules will be sent to you by email in advance of your reservation.
- Cancellation: Your deposit is refundable entirely (except for any bank charges) if you cancel by email received up to 4 weeks before your holiday. There is no refund of any monies paid if cancelled after that time.
- On arrival, you will be personally met and shown the apartment.
Price
| | |
| --- | --- |
| 1450/week | July, August and september |
| 1250/week | April, May, June and October |
| | which includes all utilities and internet. Shorter stays by arrangement. |
€2800/ Month From November to March ( shorter stays by arrangement)
Cleaning service is provided for long stay rentals every 2 weeks
Security deposit of €250 payable on arrival.
RNAL: 125979/AL
Address
Del Mar Marina
Olhão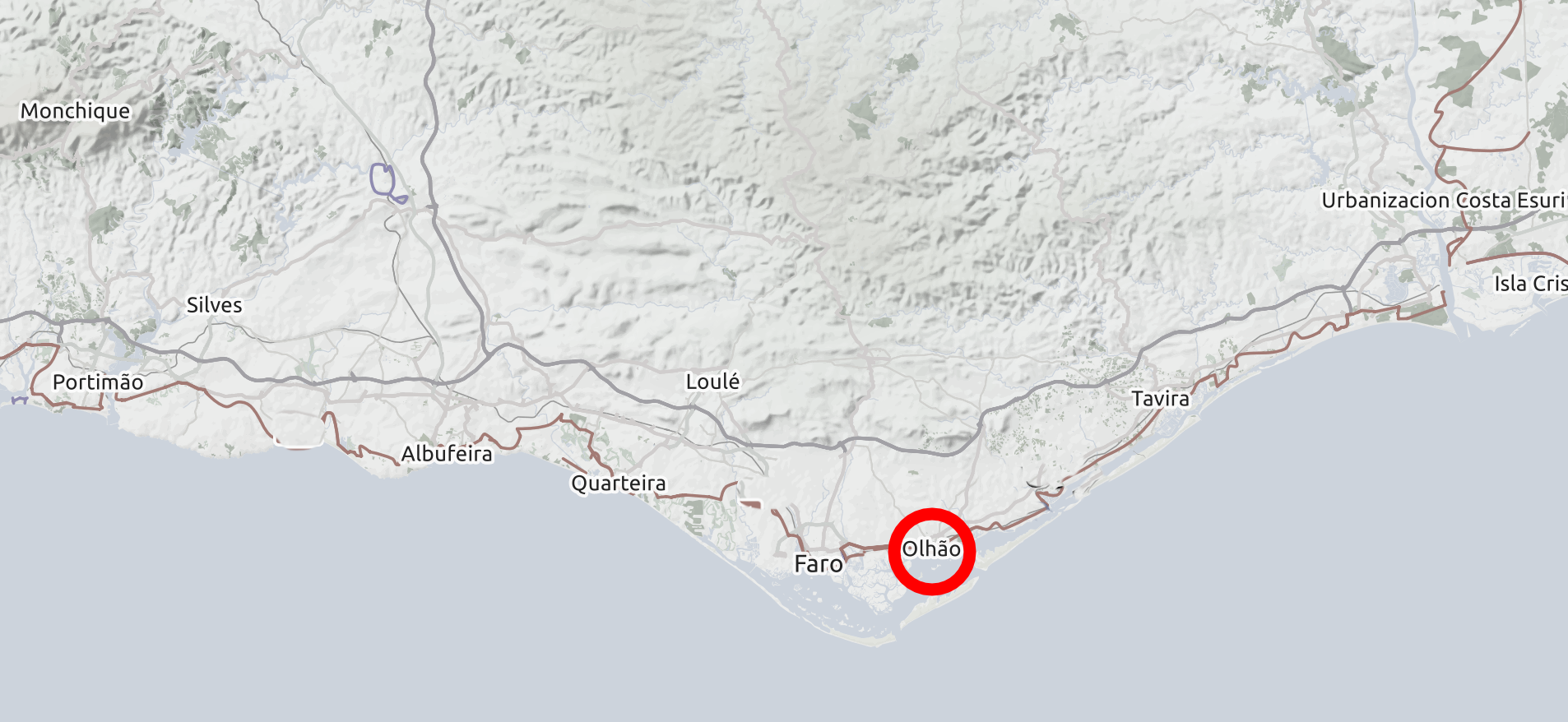 Availability
March

1

2

3

4

5

6

7

8

9

10

11

12

13

14

15

16

17

18

19

20

21

22

23

24

25

26

27

28

29

30

31
April

1

2

3

4

5

6

7

8

9

10

11

12

13

14

15

16

17

18

19

20

21

22

23

24

25

26

27

28

29

30
Mei

1

2

3

4

5

6

7

8

9

10

11

12

13

14

15

16

17

18

19

20

21

22

23

24

25

26

27

28

29

30

31
June

1

2

3

4

5

6

7

8

9

10

11

12

13

14

15

16

17

18

19

20

21

22

23

24

25

26

27

28

29

30
July

1

2

3

4

5

6

7

8

9

10

11

12

13

14

15

16

17

18

19

20

21

22

23

24

25

26

27

28

29

30

31
August

1

2

3

4

5

6

7

8

9

10

11

12

13

14

15

16

17

18

19

20

21

22

23

24

25

26

27

28

29

30

31
September

1

2

3

4

5

6

7

8

9

10

11

12

13

14

15

16

17

18

19

20

21

22

23

24

25

26

27

28

29

30
October

1

2

3

4

5

6

7

8

9

10

11

12

13

14

15

16

17

18

19

20

21

22

23

24

25

26

27

28

29

30

31
November

1

2

3

4

5

6

7

8

9

10

11

12

13

14

15

16

17

18

19

20

21

22

23

24

25

26

27

28

29

30
December

1

2

3

4

5

6

7

8

9

10

11

12

13

14

15

16

17

18

19

20

21

22

23

24

25

26

27

28

29

30

31
January

1

2

3

4

5

6

7

8

9

10

11

12

13

14

15

16

17

18

19

20

21

22

23

24

25

26

27

28

29

30

31
February

1

2

3

4

5

6

7

8

9

10

11

12

13

14

15

16

17

18

19

20

21

22

23

24

25

26

27

28

29
March

1

2

3

4

5

6

7

8

9

10

11

12

13

14

15

16

17

18

19

20

21

22

23

24

25

26

27

28

29

30

31
April

1

2

3

4

5

6

7

8

9

10

11

12

13

14

15

16

17

18

19

20

21

22

23

24

25

26

27

28

29

30
Mei

1

2

3

4

5

6

7

8

9

10

11

12

13

14

15

16

17

18

19

20

21

22

23

24

25

26

27

28

29

30

31
Last update : 2023-03-22