Del Mar Village - One Bedroom Apartment
Open plan contemporary apartment with private terrace and fantastic views over the tidal lagoon and the sea.
With a total area of 83m2 this brand new first floor one bedroom / 2 bathroom apartment is fully equipped with large, stylish open plan kitchen and living room. Large Private parking space plus storage room accessed by elevator.
Enjoy this privileged location, with Zen style mediterranean gardens and a fantastic infinity pool.
About Del Mar Village
Situated on the edge of the fishing village of Fuzeta, Del Mar is a closed condominium of luxury, contemporary apartments, with large private gardens and superb infinity pool. The location is absolutely unique; On the edge of the Ria Formosa Natural Park, it is a sea lover and bird watchers paradise. Every apartment is built facing the ocean, with huge windows and private terraces to take in the ever changing view of the tidal lagoons and sandy beaches. Here you will go to sleep to the sound of the waves and wake up to the view of the sea, ready for breakfast on your idyllic terrace. Just a few minutes walk from the centre of this friendly, traditional village, with plenty of shops selling fresh produce, a great choice of restaurants, small coffee shops and bars.
Mail:
jeffrey.tate@outlook.com
Infos
Region:
PT - Portugal, Algarve, Fuseta
Scenery:
on front Ria Formosa and Atlantic
Type:
Apartment T1
Capacity:
2 persons
Price
| | |
| --- | --- |
| 985€/week | July, August |
| 760€/week | June, September |
| 660€/week | Abril, May |
| 530€/week | October to March |
Local taxes included - Household linen and towels provided - No pets - No smoking inside the apartment
Address
Del Mar Village
Block A, Apart AB , First floor
Rua Nossa Senhora do Carmo, 71
8700-024 Fuseta
Portugal (Algarve)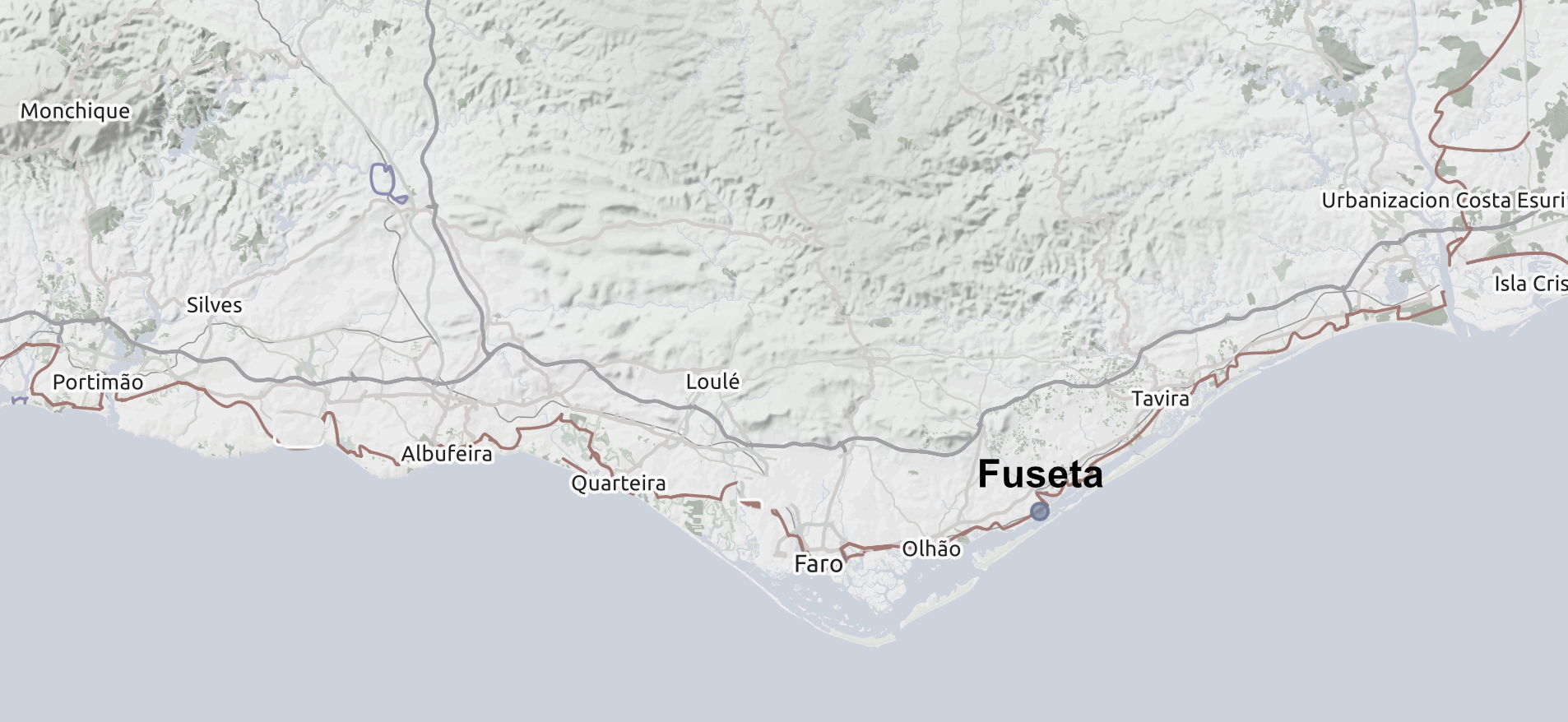 June

1

2

3

4

5

6

7

8

9

10

11

12

13

14

15

16

17

18

19

20

21

22

23

24

25

26

27

28

29

30
July

1

2

3

4

5

6

7

8

9

10

11

12

13

14

15

16

17

18

19

20

21

22

23

24

25

26

27

28

29

30

31
August

1

2

3

4

5

6

7

8

9

10

11

12

13

14

15

16

17

18

19

20

21

22

23

24

25

26

27

28

29

30

31
September

1

2

3

4

5

6

7

8

9

10

11

12

13

14

15

16

17

18

19

20

21

22

23

24

25

26

27

28

29

30
October

1

2

3

4

5

6

7

8

9

10

11

12

13

14

15

16

17

18

19

20

21

22

23

24

25

26

27

28

29

30

31
November

1

2

3

4

5

6

7

8

9

10

11

12

13

14

15

16

17

18

19

20

21

22

23

24

25

26

27

28

29

30
December

1

2

3

4

5

6

7

8

9

10

11

12

13

14

15

16

17

18

19

20

21

22

23

24

25

26

27

28

29

30

31
January

1

2

3

4

5

6

7

8

9

10

11

12

13

14

15

16

17

18

19

20

21

22

23

24

25

26

27

28

29

30

31
February

1

2

3

4

5

6

7

8

9

10

11

12

13

14

15

16

17

18

19

20

21

22

23

24

25

26

27

28

29
March

1

2

3

4

5

6

7

8

9

10

11

12

13

14

15

16

17

18

19

20

21

22

23

24

25

26

27

28

29

30

31
April

1

2

3

4

5

6

7

8

9

10

11

12

13

14

15

16

17

18

19

20

21

22

23

24

25

26

27

28

29

30
Mei

1

2

3

4

5

6

7

8

9

10

11

12

13

14

15

16

17

18

19

20

21

22

23

24

25

26

27

28

29

30

31
June

1

2

3

4

5

6

7

8

9

10

11

12

13

14

15

16

17

18

19

20

21

22

23

24

25

26

27

28

29

30
July

1

2

3

4

5

6

7

8

9

10

11

12

13

14

15

16

17

18

19

20

21

22

23

24

25

26

27

28

29

30

31
August

1

2

3

4

5

6

7

8

9

10

11

12

13

14

15

16

17

18

19

20

21

22

23

24

25

26

27

28

29

30

31
Last update : 2023-05-20