Apartment to rent - Fuseta - Algarve - Portugal
Luxurious brand new contemporaryapartment with direct views of the lagoon of the natural marine park of Ria Formosa. The pleasures of the Atlantic Ocean in a pleasant Mediterranean climate all year round. Breakfast on the balcony is always a glare .. Whether you are active or you need to rest, everything is there for you to enjoy your dream holiday. Accessible by elevator from the underground parking, the apartment are fully equipped . Wifi,air conditioning and heating in all rooms, radiator towel rails in the bathrooms. In the residence, beautiful garden of 7,000 m2 and magnificent infinity pool 22 m.
Fuseta
Delmar Village is quiet, but 5 minutes walk from the center, with its small terrace restaurants and all the shops and essential services. A small beach accessible city, 5 minutes, and a splendid sandy beach blond several kms available in summer 10 mins boat (3 € A / R), boat taxi the rest of the year. Many possible water activities. Rent bikes in the village for a stroll on the Ecovia, bike path along the coast in the middle of the salt marshes and can observe birds (flamingos, storks, herons, etc ... that can be seen as from the apartment). Car not essential (except to play golf and visit the hinterland) because you can visit Tavira Faro or thanks to the little train that follows the Algarve coast stopping at Fuseta.
Owner's contact
Mail:
fuseta@telenet.be
Infos
Region:
PT - Portugal, Algarve, Fuseta
Name:
Del Mar Village BD
Scenery:
on front Ria Formosa and Atlantic
Type:
Apartment
Privacy:
yes
Capacity:
4 persons
License:
37086/AL
Price
| | |
| --- | --- |
| 100€/day | jan - feb - mar - nov - dec |
| 130€/day | apr - may - oct |
| 160€/day | jun - sep |
| 210€/day | jul - aug |
Rates are for 2 persons; additional persons 10.00€ per person/per night
Min. 5 days
Welcome pack, bed linen & towels (plus pool towels), weekly cleaning, local taxes :
+150€ /stay 1-2 persons
+200€ /stay 3-4 persons
No pets allowed - No smoking inside the apartment
Possibility to rent our bikes. Satellite TV with an infinite number of channels, including all Belgian.
Address
Rua Nossa Senhora do Carmo, 73
8700 Fuseta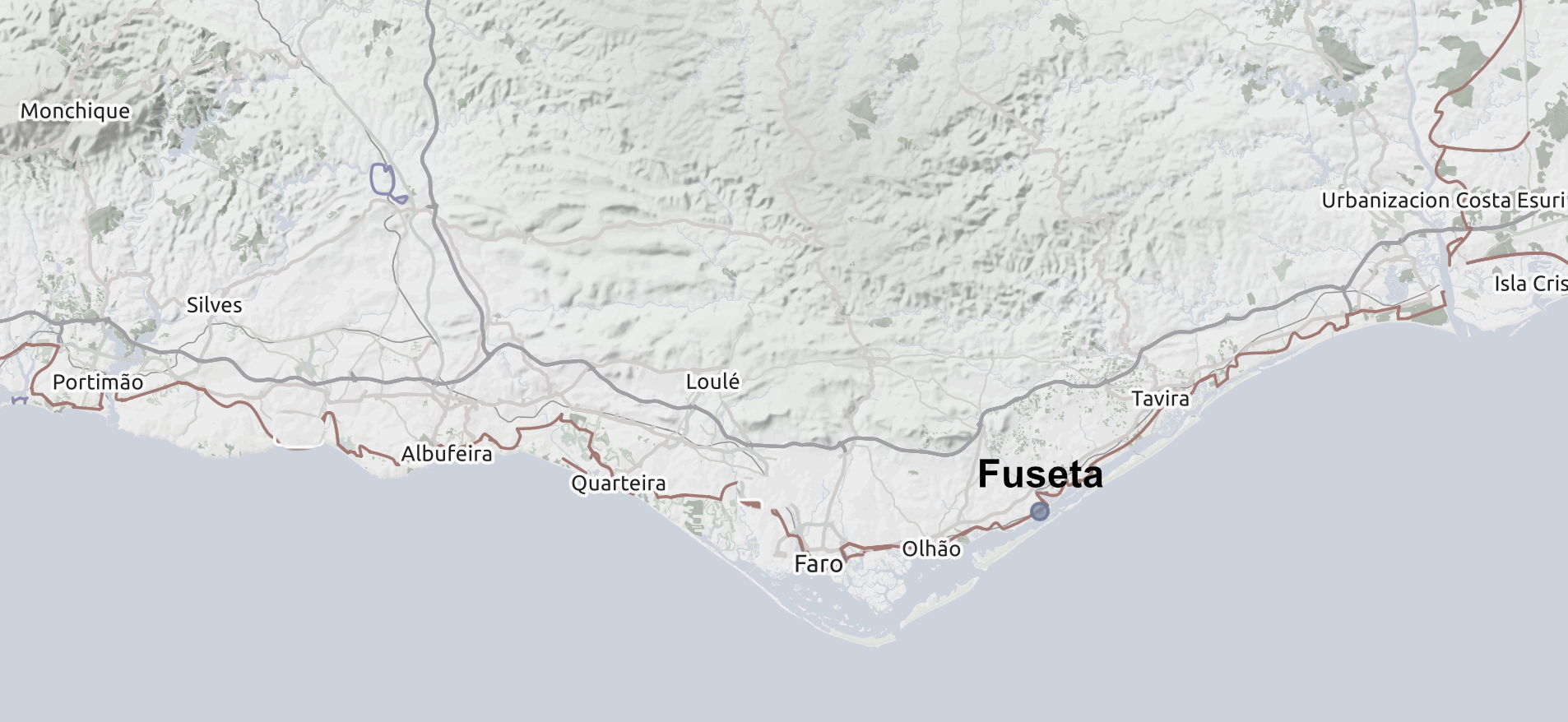 Availability
June

1

2

3

4

5

6

7

8

9

10

11

12

13

14

15

16

17

18

19

20

21

22

23

24

25

26

27

28

29

30
July

1

2

3

4

5

6

7

8

9

10

11

12

13

14

15

16

17

18

19

20

21

22

23

24

25

26

27

28

29

30

31
August

1

2

3

4

5

6

7

8

9

10

11

12

13

14

15

16

17

18

19

20

21

22

23

24

25

26

27

28

29

30

31
September

1

2

3

4

5

6

7

8

9

10

11

12

13

14

15

16

17

18

19

20

21

22

23

24

25

26

27

28

29

30
October

1

2

3

4

5

6

7

8

9

10

11

12

13

14

15

16

17

18

19

20

21

22

23

24

25

26

27

28

29

30

31
November

1

2

3

4

5

6

7

8

9

10

11

12

13

14

15

16

17

18

19

20

21

22

23

24

25

26

27

28

29

30
December

1

2

3

4

5

6

7

8

9

10

11

12

13

14

15

16

17

18

19

20

21

22

23

24

25

26

27

28

29

30

31
January

1

2

3

4

5

6

7

8

9

10

11

12

13

14

15

16

17

18

19

20

21

22

23

24

25

26

27

28

29

30

31
February

1

2

3

4

5

6

7

8

9

10

11

12

13

14

15

16

17

18

19

20

21

22

23

24

25

26

27

28
March

1

2

3

4

5

6

7

8

9

10

11

12

13

14

15

16

17

18

19

20

21

22

23

24

25

26

27

28

29

30

31
April

1

2

3

4

5

6

7

8

9

10

11

12

13

14

15

16

17

18

19

20

21

22

23

24

25

26

27

28

29

30
Mei

1

2

3

4

5

6

7

8

9

10

11

12

13

14

15

16

17

18

19

20

21

22

23

24

25

26

27

28

29

30

31
June

1

2

3

4

5

6

7

8

9

10

11

12

13

14

15

16

17

18

19

20

21

22

23

24

25

26

27

28

29

30
July

1

2

3

4

5

6

7

8

9

10

11

12

13

14

15

16

17

18

19

20

21

22

23

24

25

26

27

28

29

30

31
August

1

2

3

4

5

6

7

8

9

10

11

12

13

14

15

16

17

18

19

20

21

22

23

24

25

26

27

28

29

30

31
Last update : 2022-05-28