2 bedrooms Penthouse to rent - Fuseta - Algarve - Portugal
Luxurious, contemporary top floor apartment. Enjoy breakfast on your large private terrace, overlooking the tidal lagoons of the Ria Formosa Natural Park.
This stylish 2 bedroom / 2 bathroom Penthouse apartment is equipped with all comforts - such as a wall mounted 47" Led Full HD TV, Home Theater System (Blu-Ray, DVD and CD), fiber Wi-Fi throughout, Air Conditioning in all rooms and private parking space, accessed by elevator. 
Del Mar Village is a magnificent condominium, with beachfront location. 7.000m² of beautiful gardens, swimming pools for adults and children. Located in one of the 7 Natural Wonders of Portugal, Parque Natural da Ria Formosa, and just 25 Km from Faro airport.
By choosing our Penthouse apartment we are certain that you will be in the ideal place to enjoy the best the Eastern Algarve has to offer: a more relaxed vacation! The center Fuzeta is a 5-minute walk away where you find restaurants, cafes, bars, local markets and 2 train stations.
The Area
From October to May, the mild climate of the Algarve allows golfers, bird watchers, trekkers and lovers of cycling to enjoy their favorite pastimes.
Within 15/30 minutes you will find 20 golf courses in the areas of Olhão, Tavira, Almancil (Quinta do Lago), Vilamoura and Castro Marim.
Paradise for birdwatchers, the Parque Natural da Ria Formosa is one of the most important waterfowl areas, housing over 20.000 during the winter, and a zone of passage for migrating birds between northern Europe and Africa. Great for walking enthusiasts, the area offers significant natural, scenic and cultural routes.
In summer, the beautiful beaches of the island of Armona are 5 minutes away by the boat service from the small harbor. Just 5-minute walk from the condo, there is the beach of Tesos that without waves, many consider ideal. At both beaches you can go sailing, windsurfing, canoeing and other water sports. Or take the train and stroll down Olhão, Tavira and Vila Real de Sto. Antonio - You will see that it is worth it! 
Owner's contact
Mail:
hr.by.mjcl@icloud.com
Infos
Region:
PT - Portugal, Algarve, Fuseta
Name:
Del Mar Village BE
Scenery:
on front Ria Formosa and Atlantic
Type:
Apartment
Privacy:
yes
Capacity:
4(5) persons
Licence:
772/AL
Price
| | |
| --- | --- |
| 990€/week | November 1 to December 23 |
| 1.430€/week | December 23 to January 2 |
| 990€/week | January 2 to April 1 |
| 1.210€/week | April 1 to June 1 |
| 1.430€/week | June 1 to July 1 |
| 1.925€/week | July 1 to September 7 |
| 1.430€/week | September 7 to October 1 |
| 1.210€/week | October 1 to November 1 |
Rates are for 2 persons; additional persons 15.00€ per person/per night
Maximum occupancy 5 persons
What's included?
• Concierge Service
• Secure parking in the garage
• Use of swimming pools
• Electricity, gas, water, air conditioning, personal safe
• In the middle of your stay: Change of linen, towels and toiletries
• Washing up tablets for the dishwasher and the washing machine
• Toilet paper, paper towels and napkins
• Final cleaning
• For babies: baby crib (with mattress, mattress´ protector, duvet, pillow and linen), highchair (with tray), baby tub and baby mugs, plates, bowls, cutlery and bibs
• Wi-Fi with unlimited traffic at 200 Mps speed
• Free local landline calls 24/7
• 250 minutes per week free international landline calls to 50 destinations between 21:00 and 09:00
• Cable TV + IPTV allowing you to watch dozens of international channels from Belgium, France, Germany, Ireland, Netherlands, Portugal, Spain, Sweden, UK (including UK Sport's channels) and USA
We also provide beach umbrellas, beach chairs, beach towels and 4 bicycles for use during your stay for free.
If not renting a car, taxi collection at a discounted rate from Faro airport with a reliable English-speaking driver can be arranged.
Address
Rua Nossa Senhora do Carmo, 73
8700 Fuseta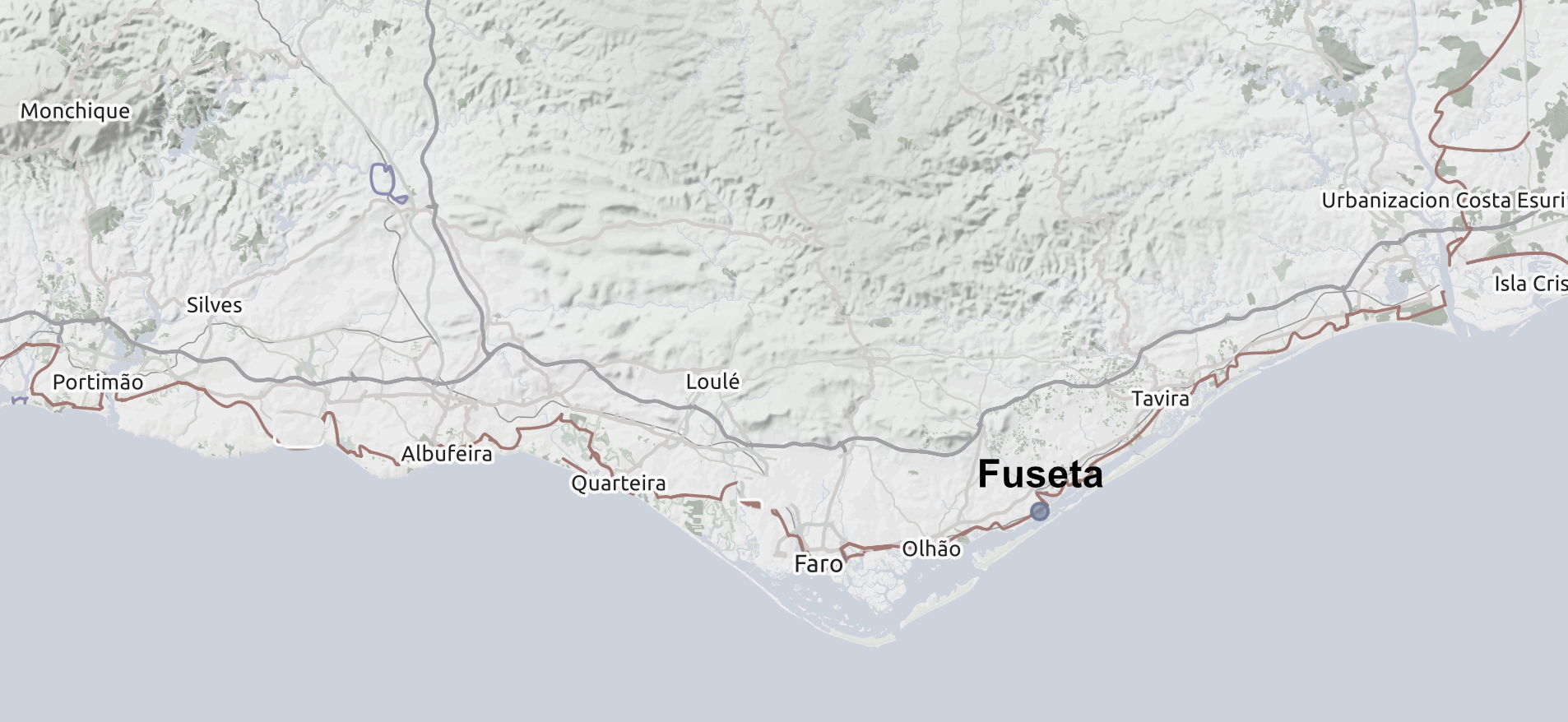 Availability
November

1

2

3

4

5

6

7

8

9

10

11

12

13

14

15

16

17

18

19

20

21

22

23

24

25

26

27

28

29

30
December

1

2

3

4

5

6

7

8

9

10

11

12

13

14

15

16

17

18

19

20

21

22

23

24

25

26

27

28

29

30

31
January

1

2

3

4

5

6

7

8

9

10

11

12

13

14

15

16

17

18

19

20

21

22

23

24

25

26

27

28

29

30

31
February

1

2

3

4

5

6

7

8

9

10

11

12

13

14

15

16

17

18

19

20

21

22

23

24

25

26

27

28

29
March

1

2

3

4

5

6

7

8

9

10

11

12

13

14

15

16

17

18

19

20

21

22

23

24

25

26

27

28

29

30

31
April

1

2

3

4

5

6

7

8

9

10

11

12

13

14

15

16

17

18

19

20

21

22

23

24

25

26

27

28

29

30
Mei

1

2

3

4

5

6

7

8

9

10

11

12

13

14

15

16

17

18

19

20

21

22

23

24

25

26

27

28

29

30

31
June

1

2

3

4

5

6

7

8

9

10

11

12

13

14

15

16

17

18

19

20

21

22

23

24

25

26

27

28

29

30
July

1

2

3

4

5

6

7

8

9

10

11

12

13

14

15

16

17

18

19

20

21

22

23

24

25

26

27

28

29

30

31
August

1

2

3

4

5

6

7

8

9

10

11

12

13

14

15

16

17

18

19

20

21

22

23

24

25

26

27

28

29

30

31
September

1

2

3

4

5

6

7

8

9

10

11

12

13

14

15

16

17

18

19

20

21

22

23

24

25

26

27

28

29

30
October

1

2

3

4

5

6

7

8

9

10

11

12

13

14

15

16

17

18

19

20

21

22

23

24

25

26

27

28

29

30

31
November

1

2

3

4

5

6

7

8

9

10

11

12

13

14

15

16

17

18

19

20

21

22

23

24

25

26

27

28

29

30
December

1

2

3

4

5

6

7

8

9

10

11

12

13

14

15

16

17

18

19

20

21

22

23

24

25

26

27

28

29

30

31
January

1

2

3

4

5

6

7

8

9

10

11

12

13

14

15

16

17

18

19

20

21

22

23

24

25

26

27

28

29

30

31
Last update : 2023-10-27