Beautiful Penthouse Apartment Completely Refurbished!
Fantastic frontline views over the Ria Formosa Natural Park and the sea! , Part of the condominium "Del Mar Village " situated in beautiful gardens of 7000 m2 and a magnificent infinity pool with a separate children´s pool.
Located in the friendly and relaxed fishing village of Fuseta, just a few minutes walk from the centre. Great variety of restaurants and shops, plus a supermarket, all open 7 days a week. There is a Fresh food market with locally produced vegetables, meat and fish.
A small train station "Fuseta A"( Line Faro-Tavira-Villa Real- Spain).
Walk to the nearby beach and enjoy snacks and sundowners at the bar – feet in the sand! A few minutes away by ferry or taxi boat you can go and laze on a sun lounger or walk for hours on the idyllic beaches of Armona Island.
Apartment
This new contemporary apartment is a spacious 157 m2 including a large south orientated terrace. Wi-Fi, air-conditioning (heating or cooling), and under floor heating.
Living room
: with spectacular views to the ria formosa and direct access to the terrace, a flatscreenTV (satellite TV with an infinite number of channels, including all Belgian). and a spacious sitting area. High speed wifi to enable parallel internet access from different rooms.
Kitchen:
Contemporary Open kitchen, fully equipped (including as dishwasher, micro-wave, oven, steam oven, induction cooking plate, freezer and fridge), coffee machine, juicer, electric water heater and toaster
Master Bedroom:
with spectacular views to the marine park and direct access to the terrace. Double bed ( 160 x200 cm), electric black –outs and suite bath-room with 1 sink , wc and walk-in shower
Guest Bedroom:
Double bed ( 160 x200 cm) and electric black-outs
Guest Bathroom:
Spacious, with walk-in shower and washing machine
Terrace:
with spectacular views to the Ria Formosa marine park , outdoor furniture and 2 lounge seats, outdoor sunheated shower,electric adjustable sunscreens on the terrace.
Parking:
1 private place underground ( can be reached by elevator).
In general:
brandnew contemporary apartment with wifi, airconditioning ( heating or cooling), underfloor heating.
Owner's contact
Mail:
fresab8700@gmail.com
Infos
Region:
PT - Portugal, Algarve, Fuseta
Name:
Del Mar Village BO
Scenery:
on front Ria Formosa and Atlantic
Type:
Apartment
Privacy:
yes
Capacity:
4 persons
Price
130€/day
jan - feb - mar - nov - dec
1550€/week
December 23 to January 2
155€/day
apr - may - oct
215€/day
jun - sep
260€/day
jul - aug
Min.5 Days - 10% discount for 2 weeks or longer!
Rates are for 2 persons; additional persons 10.00€ per person/per night
Deposit: 300€
Welcome, Final cleaning
+150€ /stay 1 week
+200€ /stay 2 weeks
Local taxes included - Household linen and towels provided - No pets - No children < 10 years old - No smoking apartment
Outdoor terrace sunheated shower.
satellite TV with an infinite number of channels, including all Belgian.
RNAL: 131732/AL
Address
Rua Nossa Senhora do Carmo, 85
8700 Fuseta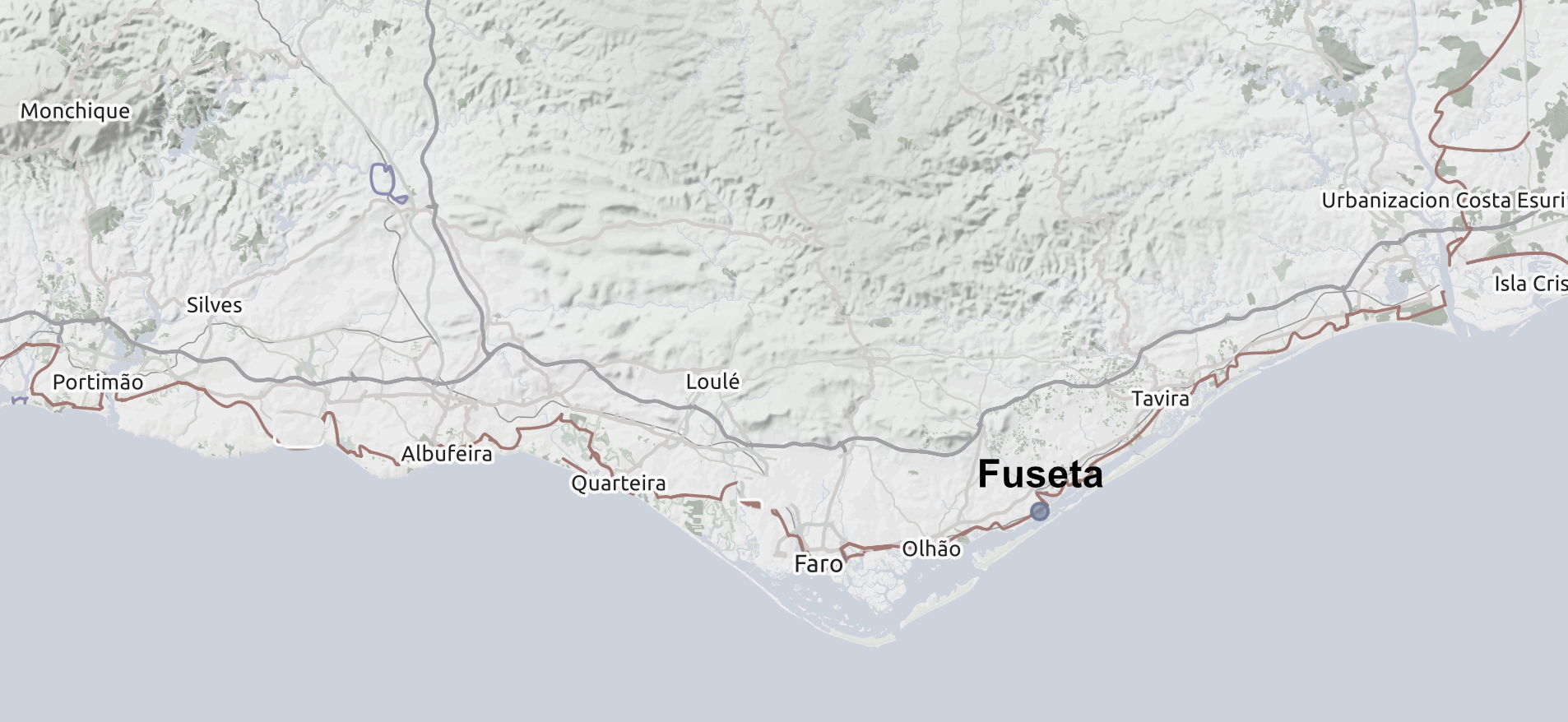 Availability
March

1

2

3

4

5

6

7

8

9

10

11

12

13

14

15

16

17

18

19

20

21

22

23

24

25

26

27

28

29

30

31
April

1

2

3

4

5

6

7

8

9

10

11

12

13

14

15

16

17

18

19

20

21

22

23

24

25

26

27

28

29

30
Mei

1

2

3

4

5

6

7

8

9

10

11

12

13

14

15

16

17

18

19

20

21

22

23

24

25

26

27

28

29

30

31
June

1

2

3

4

5

6

7

8

9

10

11

12

13

14

15

16

17

18

19

20

21

22

23

24

25

26

27

28

29

30
July

1

2

3

4

5

6

7

8

9

10

11

12

13

14

15

16

17

18

19

20

21

22

23

24

25

26

27

28

29

30

31
August

1

2

3

4

5

6

7

8

9

10

11

12

13

14

15

16

17

18

19

20

21

22

23

24

25

26

27

28

29

30

31
September

1

2

3

4

5

6

7

8

9

10

11

12

13

14

15

16

17

18

19

20

21

22

23

24

25

26

27

28

29

30
October

1

2

3

4

5

6

7

8

9

10

11

12

13

14

15

16

17

18

19

20

21

22

23

24

25

26

27

28

29

30

31
November

1

2

3

4

5

6

7

8

9

10

11

12

13

14

15

16

17

18

19

20

21

22

23

24

25

26

27

28

29

30
December

1

2

3

4

5

6

7

8

9

10

11

12

13

14

15

16

17

18

19

20

21

22

23

24

25

26

27

28

29

30

31
January

1

2

3

4

5

6

7

8

9

10

11

12

13

14

15

16

17

18

19

20

21

22

23

24

25

26

27

28

29

30

31
February

1

2

3

4

5

6

7

8

9

10

11

12

13

14

15

16

17

18

19

20

21

22

23

24

25

26

27

28

29
March

1

2

3

4

5

6

7

8

9

10

11

12

13

14

15

16

17

18

19

20

21

22

23

24

25

26

27

28

29

30

31
April

1

2

3

4

5

6

7

8

9

10

11

12

13

14

15

16

17

18

19

20

21

22

23

24

25

26

27

28

29

30
Mei

1

2

3

4

5

6

7

8

9

10

11

12

13

14

15

16

17

18

19

20

21

22

23

24

25

26

27

28

29

30

31
Last update : 2023-03-12